Panielists Required for Linkaholics Hot Site Awards!
I am currently looking for 3 web designers who feel that they have a good knowledge of HTML to aid me in reviewing sites which are submitted throught my award site. If you are interested in doing this please fill out the form. In return, i am willing to promote your site throught the PromoLinks service for Free for as long as you are reviewing site for Linkaholics.
If you do wish to help, i will also give you the option of placing the award submission form, the sample awards and also the member logo (as seen below) on your site.
Click here to submit your info.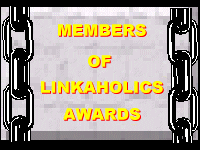 Please fill out the form below.
Winners of the Linkaholics Hot Site Award.
administration: admin@linkaholics.free-online.co.uk
webmaster: webmaster@linkaholics.free-online.co.uk
comments: comments@linkaholics.free-online.co.uk